Case Study - Generating Station
Gibson Generating Station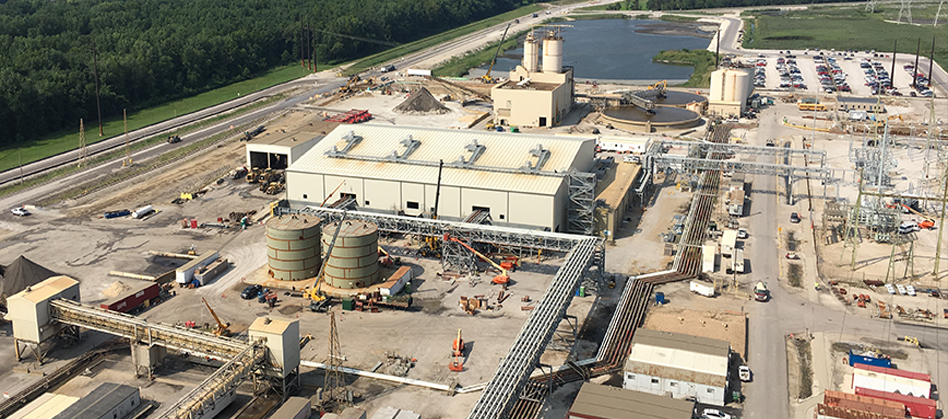 Located in Montgomery Township, Gibson County Indiana, the Gibson Generating Station is one of the largest coal-burning power plants in the US. It has a capacity of more than 3,000 megawatts with a five-unit facility that was build built between 1976 and 1982.

USSI engineered, detailed, and manufactured the Dry Bottom Ash Building structure for this facility utilizing a combination of Class-A structural steel, including a separate pre-engineered building. The Dry Ash building has a peak over 60' high and is approximately 180' wide and 260' long. The structure has eight 2,000 lb. ventilation units on the roof that are supported by an exterior mezzanine. The mezzanine is supported with more than 60 structural pipe columns which penetrate the roof, along with the required beams and decking to complete the assembly.

Some of the challenges included: working "inside the fence" at an active plant; managing multiple suppliers; meeting an aggressive schedule; and providing unique finishing details not typical of these types of buildings.
USSI's Scope Of Work
8 - oversized sliding doors
3 - 16'X16' Industrial roll-up doors
8 – Personnel doors
Gable unsymmetrical building with interior columns
4" (R-33) Foam Insulated Metal Panels (IMP) for the roof.
3" (R-24) Foam Insulated Metal Panels (IMP) for the walls.
1 - 3-ton crane
Cable trays
Pipe trays
Ventilation access platforms
Hot dip galvanizing of all structural members
Interior partitions
---
Project Case Studies
Related Videos
USSI 3D animation that explores acoustical compressor building applications